How to Write a 10 Page Paper in 24 hours?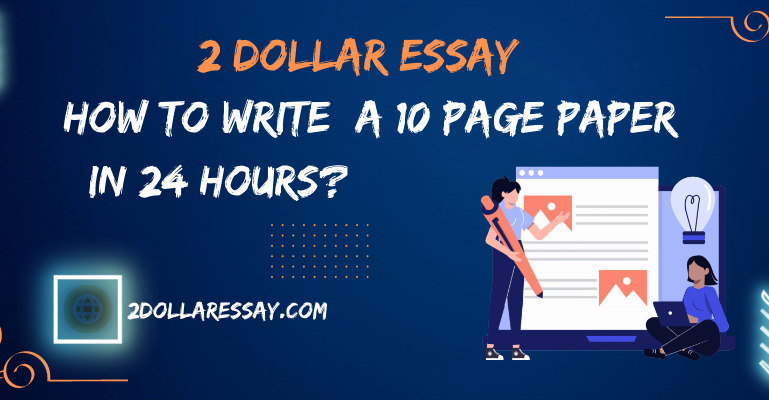 Writing a 10-page paper in one day is like running a marathon with your clothes on and asking someone to film it. It sounds impossible, but you can do it. In fact, you can even enjoy it. With the right planning and preparation, writing an essay of any length is no more challenging than writing a 100-word essay.
The trick is to manage your time effectively and have a strategy for staying on track throughout the entire process. Here are some tips for how to write a 10-page paper in 24 hours.
How to Write a Paper in a Day
Set realistic expectations
If you dont have time, you might be tempted to write a paper in 24 hours without doing any research or without taking the time to create an outline. Doing either or both of these things is a sure way to produce a low-quality paper and earn a poor grade.
Admit that you have a short time and prepare yourself according. Therefore, you should not focus on achieving on A grade. Instead, focus on submitting the paper on time. 
Understand Paper Requirements
Before you can even begin to think about writing a paper, you need to find out what your professor expects from you. The best way to check the instrutions of paper. If you are not sure about the length of paper, you may read How long should a paper be?
Understand the mindset of professor by reading the syllabus. In this way, you will be able to understabd the grading criteria of professor. Also, read the rubric to fulfill all requirements. If you have any questions, feel free to email your professor and ask them directly. 
Create a writing schedule
If you're going to write a 10-page paper in one day, you need to write as much as you can in a short period of time. You also need to take time out of the writing process to rest your mind and body. If you try to do this without any breaks, you're bound to get burned out and make mistakes.
A writing schedule for a 24-hour paper should include at least two 15-minute breaks and a couple of hours for sleeping. Some people might prefer to take a nap or two during the day, which is fine, too.
Smartphones cause distraction specially when you are writing a paper in a day. To complete focus on your writing, turn off your smartphone or put in onto silent mode. It is better if you avoid television for few hours. Watching television during writing would slow down your speed. 
It is the main part of your paper that will determine the flow of your paper. The last sentence of the first paragraph should be the thesis statement of your paper. Write thesis statement carefully because your entire essay will be based on it. 
All body paragraphs must follow thesis statement and conclusion should summarize the entire introduction. 
Write fast and furious for 1 hour
The first thing you do when you sit down to write your 10-page paper is write for 1 hour. Don't worry about grammar or sentence structure at this point. Just get whatever's in your head down on paper. If you need to move your hands, get up and walk around a bit while you're thinking.
Collect the data from relevant journals and articles. Ensure it is related to the topic of your paper. Consider it the rough draft of your paper.
Take a short break (or a long one)
After you've written for 15 minutes, take a short break. You can drink water, grab a snack or go outside. Relax yourself and think about the next part of the paper. When you come back from the break, you will find yourself in a much better position.
Repeat this for 3 to 4 hours. You will be able to complete the rough draft of your paper in just couple of hours. 
Review the rough draft of your paper and prepare yourself for making necessary changes. In review, focus on these two primary questions. 
If you don't have a clear thesis yet, don't worry. You can get it straightened out later. For now, just read what you've written. Then, imagine your professor reading it and ask yourself if it makes sense and if it's clear.
Finalize Your Rough Draft
In the final version of your file ensure there is a clear thesis statement. Also, make sure all paragraphs have a topic sentence and clear transition. Ensure there is no plagiarism and no grammatical mistakes. 
You cannot submit your paper without adding references and in-text citations. After preparing the final version of essay, it is time to add references and in text citations. It is where you will double check your paper instructions to determine the referencing style your teacher expects you to use.
For a 10 page paper, add at least five and maximum ten references. Make sure to add in text citation for every reference you add.